Bitcoin Forms Pennant Formation Potential Ahead of US Inflation Report
US disinflationary process will continue
Bitcoin Could Rise Above Horizontal Resistance If Dollar Hits
Summer trading is usually slow and tricky. Even cryptocurrency markets often consolidate levels for longer than usual periods.
So is Bitcoin these days. The good news for cryptocurrency fans is that the Bitcoin price remains near the highs of the year.
So, we can only ask if this consolidation is a continuation pattern before further rally, or if sellers are putting pressure here ahead of the important US inflation report due tomorrow.
Like it or not, Bitcoin's performance has followed the movement of the US dollar. As such, U.S. economic data is critical to the performance of digital assets, particularly data that directly influences the Federal Reserve's monetary policy decisions.
June US CPI expected to show further decline
It is already clear that inflation is cooling in the Western Hemisphere. The disinflationary process is in full swing, although not all countries follow the same pattern.
That's why traders expect annual US inflation to fall to 3.1% from 4% in June in the June US Consumer Price Index (CPI) report due tomorrow. If in line with the real data, the US dollar would suffer as bets on another rate hike from the Fed would drop significantly.
Bitcoin should therefore break above the horizontal resistance seen at $32,000.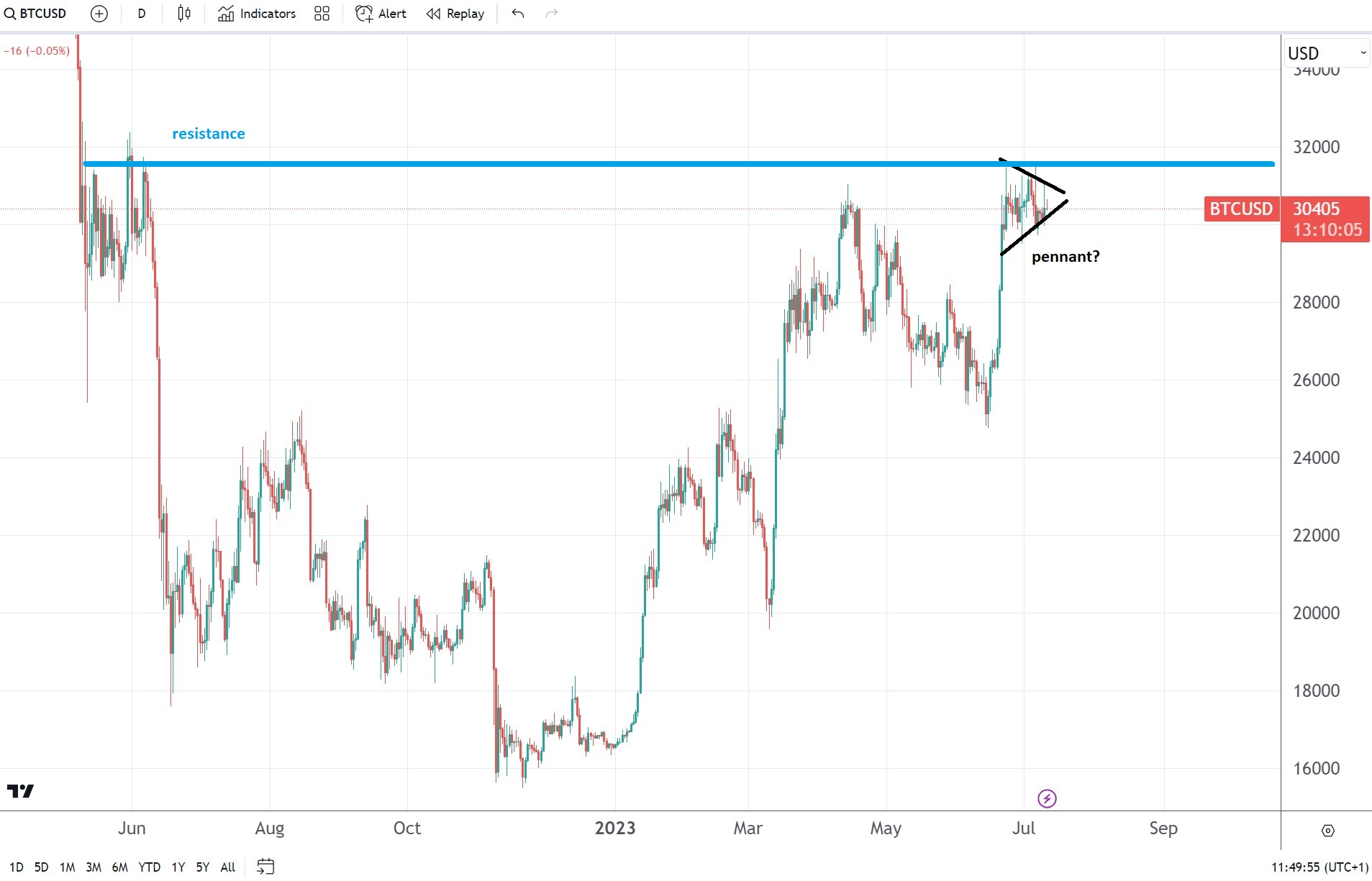 Pennant Potential Makes Bitcoin Holders Optimistic
The pennant is a bullish technical analysis pattern. The market typically rebounds after a bullish breakout and travels the same distance as it did before pennant formation.
For Bitcoin, this is $31,000 plus about $6,000, making $37,000 a logical target.
But that won't happen unless the US inflation report brings positive surprises. More precisely, if inflation cools down more than expected, the Fed is less likely to raise rates, which should weaken the US dollar.