Strong US dollar weighs on major cryptocurrencies
Double top pattern at $100 suggests further weakness ahead
If the dollar continues to strengthen, we should not rule out a move to support areas in 2022.
The US dollar has been trending higher recently despite the uncertainty surrounding the debt ceiling negotiations. The U.S. Treasury has warned it will run out of money to pay bills from June unless the debt ceiling is raised or stopped.
The ongoing negotiations between Republicans and Democrats remain tense, but even a short-term breach of the debt ceiling would have a significant negative impact on the US economy. As for the US dollar, opinions are divided on how such an event would affect global reserve currencies.
Whatever the reason, the dollar is trending higher against both fiat and cryptocurrencies. For example, the EUR/USD pair is trading below 1.08 after trading around 1.11 a month ago.
LTC/USD is one of the cryptocurrency pairs that has seen the recent strength of the dollar stand out. Sure enough, the pair is up over 24% in his UTD, but as of this writing has given up over 5% gains today alone.
Worse yet, it failed to find horizontal resistance at the $100 levels. This means there may be a triangle as a reversal pattern, suggesting further weakness for the pair in the coming period.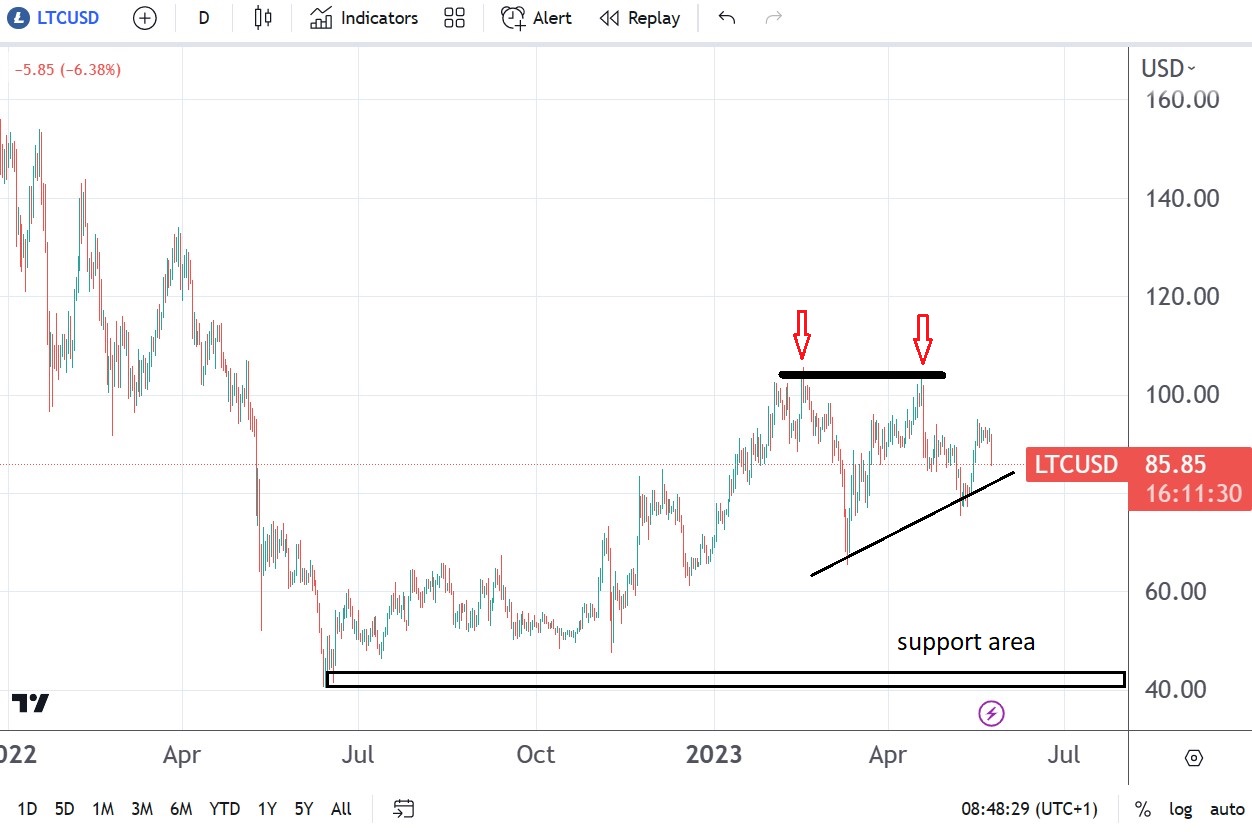 Double top pattern hints at further weakness ahead
One of the strongest reversal patterns is the double top. In this case, it is even stronger because it formed at the round numbers, i.e. the $100 level.
A move below the uptrend line opens the door for further declines towards the 2022 support area seen at $40. If the dollar continues to rise, it shouldn't be surprising if support sooner or later breaks down.