The first question you are likely to consider when planning your trading monitor setup is whether you need multiple monitors. The answers to this vary, but traders tend to prefer using multiple monitors for several reasons.
Trading can be a stressful task and it is the trader's job to transform charts, indicators and tickers into information that supports their trading objectives. This task can be easily accomplished with the right tools. The monitor you use can create an efficient work environment where you can focus on important details and analyze unpredictable trend patterns.
Here's what you need to know when using multiple screens:
5 Key Benefits of Using Multiple Screens
Reasons traders use multiple screens:
1. Stay up to date on current events
Macroeconomic factors can significantly affect the price of a security. As a result, traders enjoy reading the news to stay up to date on current events. Knowing what happens can give you a huge competitive advantage and help you become a more profitable trader.
With multiple monitors, you can keep up with relevant news while performing your trading activity. If you discover that a particular event may have a positive or negative impact on your assets, take immediate action using a variety of monitors to see how such information impacts the market in real-time. In can be confirmed.
It is also necessary to keep up with financial news from trusted sites such as Bloomberg and Reuters.
2. Track different markets
Some traders trade on multiple stock exchanges around the world. For such traders, having multiple screens showing trends in securities on various exchanges is essential to their success.
Finding the best entry point is essential to a successful trade, and passively tracking stocks across multiple screens can be an advantage. The best trading monitor on the marketit amplifies your trading experience, making it easier to notice on-screen movements and determine if there are profitable trades.
3. Trading on multiple timeframes
Tracking multiple timeframes is very important for day traders.Always make decisions with multiple perspectives Which investments in the crypto market are better. There may be a key timeframe for tracking ongoing positions, such as a two-hour timeframe that shows the stock's movements over the past two hours.
Longer timeframes are also useful for tracking key support and resistance points and performing other analysis. is much easier to track.
Using multiple monitors helps you look at shorter timeframes and identify good entry points for short-term trades.
4. To understand the order flow
Traders can use order flow to identify market buying and selling pressure to help with price prediction. Order flow is often used in conjunction with technical analysis to determine better entry and exit levels and what types of orders to place in the market (market, stop, limit, etc.).
Day traders and scalpers use the old stock trading technique of reading the flow of orders. Order flow indicates market depth, which is the depth of supply (ask/offer) and demand (bid) in the market. In other words, the order flow shows the market buy and sell limit orders.
By reading the order flow, traders can identify price levels for large volume buy or sell orders. If a trader wants to place a market order, they can check if there is enough liquidity at the current price level to fill the order without the price moving significantly.
However, please note that the order flow can only display limit orders, not stop orders. As a result, order flow is used in conjunction with other technical analysis methods to help traders make trading decisions.
5. Sentiment Analysis
For easy access to detailed information and trading, you can use the Sentiment Index to track current market sentiment on the assets you care about.
Sentiment analysis helps determine the percentage of traders taking a particular market position.A competent trader uses this information to Predict market direction.
For example, sentiment analysis helps predict price reversals. It is more useful for securities traded on standard exchanges such as stocks, futures and options where complete data is available.
Create your ideal trade monitor setup
To create your ideal monitor setup, you will need:
1. Comfortable and ergonomic setup
A height-adjustable desk is essential for a healthy working environment in trading. You can adjust the height to suit your needs, or stand up when you're tired of sitting.
This makes it easier to stay healthy during long trading hours.
A comfortable chair is essential in addition to the ideal day trading desk. To take advantage of your optimal investment time, you need to stay focused from start to finish of your working day.
As a result, ergonomic chairs are ideal for day trading computer setups as they provide adequate neck support, reduce back pain and are extremely comfortable.
2. Necessary trading software
You need the necessary trading software and tools to monitor the markets, evaluate data and place trades. This may include risk management software, trading platforms and charting software.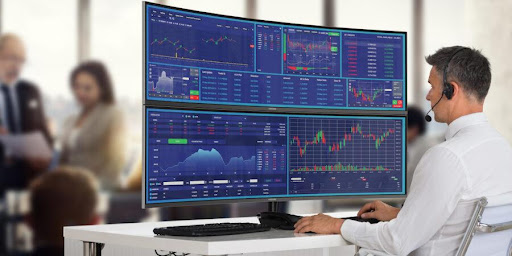 3. Monitor
Once you have gathered all the components you need to set up your trading monitor, you can choose your day trading computer monitor. Too many screens?
There is no silver bullet. It's just an experiment and observation situation. Show what you want on your display and upgrade when you need it. However, you have to consider resolution and size.
Invest in a high resolution screen to ensure proper zooming and content viewing. A minimum resolution of 1080P (1920×1080) is ideal. The size of your setup is determined by how you view it. You can choose from three 27″ screens and two 32″ screens.
Aside from that, you can give your setup a more modern look by attaching additional mounts to hold multiple monitors in place.
monitor arms and mounts:
Save space on your multi-day trading monitor by investing in a desk mount, wall mount, monitor stand, or monitor arm. A great option for configuring multiple trade monitors. You can mount 2-3 monitors on your desk or wall.
This way you get a clear workspace to conduct your business. Apart from that, the perfect day trading computer setup requires an adjustable monitor arm that can be adjusted to fit your neck.
How many monitors does a trader need?
How many monitors does a home trader need to effectively monitor the market? With monitor prices dropping significantly and graphics cards now routinely supporting multiple monitor setups, the answer is has evolved over time.
Given the low cost, it makes sense to install as many monitors as will comfortably fit in the space designated for the function without exceeding your budget or ability to quickly analyze the information displayed.
Additionally, trading style affects the use of multiple monitors. For example, swing traders and position traders may need multiple monitors to allow enough time to analyze the market and access different data feeds.if you are using A Variety of Crypto Platforms to Take Your Trading to the Next Leveland may require multiple monitors.
Traders use multiple monitors for a variety of reasons, but in some cases, less is more. If you're just starting out on a tight budget, invest in a good laptop and your skills. A good laptop can run multiple tabs at once with very little performance lag. You can do what you want on one laptop and create a setup later when you start making money.
Conclusion
Traders use multiple monitors for a variety of reasons, but in some cases, less is more. If you're just starting out on a tight budget, invest in a good laptop and your skills. A good laptop can run multiple tabs at once with very little performance lag. You can do what you want on one laptop and create a setup later when you start making money.